Snow Whitey's Flashmob Behind the 7 Hills, Saturday Feb 17, 11am
When:
February 17, 2018 @ 11:00 am – 3:00 pm
2018-02-17T11:00:00-08:00
2018-02-17T15:00:00-08:00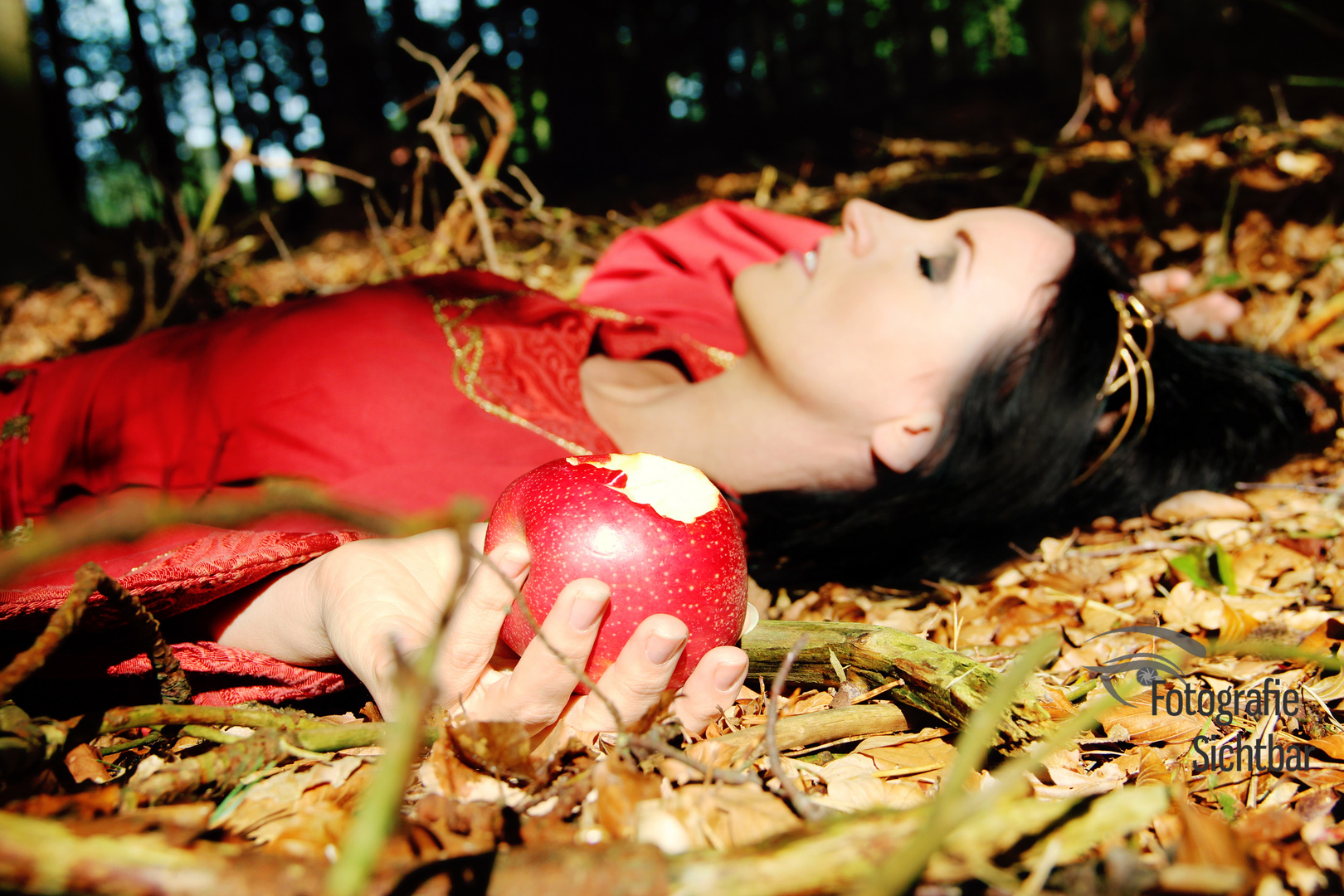 Deutsch | English
Hätte es zu Schneewittchen's Stiefmutterzeiten bereits Google's Alexa oder Apple's Siri gegeben, wäre die Geschichte definitiv anders verlaufen. Die sieben Zwerge hätten wohl nie eine Frau bei sich ins Bett bekommen, der Volvo P1800ES hätte einen anderen Spitznamen gehabt, und der Prinz hätte allenfalls einen Frosch küssen können, und das auch nur, wenn man den Glassarg als Aquarium genutzt hätte. Ganz zu schweigen davon, dass der Apfel wahrscheinlich von Hipp gewesen wäre, und der mit seinem Namen für die Qualität gebürgt hätte.
Aber "hätte hätte Fahrradkette", es kam wie es kommen musste. Ein zweilichtiger Spiegel führte sein eigenes intrigantes Spiel mit der in ihrer Selbstwahrnehmung verunsicherten, sich im Klimakterium befindlichen Mitfünfzigerin und verleitete sie letztendlich zu einer schändlichen Tat.
Dass die Geschichte dennoch gut ausging verdankt sie am Ende allein dem Prinzen, der zufällig vorbeikam und sich nicht davor ekelte eine Leiche zu küssen. Der Mann hätte es auch im Dschungelcamp weit gebracht. Dennoch liebe Kinder, NICHT NACHMACHEN!
Besser ist's Ihr kommt am Samstag den 17. Februar ab 20 Uhr einfach mal vorbei, wenn Schneewittchen eine Party für ihre 7 Zwerge schmeißt und erlebt sie lebendig und putzmunter am Mikrofon als DJane des Abends.
Wie alle Parties auf der Sim R.a.h.m.e.n.l.o.s. wird auch diese sicherlich wieder ein Highlight der Woche sein, und Ihr könnt Euch drauf freuen. Wer Lust darauf hat Freunde mitzubringen: es ist alles herzlich willkommen im Umkreis von 6 Bergen. Erst ab dem 7. wird's problematisch.
Also man sieht sich im Land hinter den 7 Bergen. Wer 'ne Abkürzung nehmen möchte, hier ist sie:
http://maps.secondlife.com/secondlife/Sacred%20Heart/35/4/3502
---
If Google's Alexa or Apple's Siri would have existed already at Snow Whitey's Stepmother's time, the story would've taken a different turn. The seven dwarfs would perhaps never had a woman in their bed, the Volvo P1800ES would have had a different nick name, and the prince could have kissed a frog at the max, and only if the glass coffin was turned into an aquarium. Not to mention the apple would've come from an ecologically strictly monitored farm with quality certification with a shrink wrap.
But 'If ifs and ands were pots and pans, there'd be no work for tinkers' hands'. A dodgy mirror played its plotted game with an in her self-perception unsettled and climacterically loaded lady in her mid-fifties, and seduced her to a disgraceful deed.
That the story found a happy end nevertheless, is entirely due to a prince, who accidentally walked this way and did not feel sick to kiss a corps. This man could have made it in any tv jungle camp. But dear kids, DON'T TRY IT!
Better you come to Snow Whitey's party for her 7 dwarfs on Feb 17, 11am SLT and find her as happy and alive as can be at the microphone as the DJane of the evening.
As all the parties on the sim R.a.h.m.e.n.l.o.s. also this one will most likely be a highlight of the week, and you can definitely look forward to it. If you like you can bring in your friends from within a radius of 6 hills. Just the 7th will become tricky.
Well, see you soon in the land behind the 7 hills. If you need a shortcut, here it is:
http://maps.secondlife.com/secondlife/Sacred%20Heart/35/4/3502